Only men prepare the Tangia. The secret of this meal is that it is natural, pure, and with simple spices.
The Tangia Dish: A Cultural Landmark
Like any icon of Marrakech, the "Tangia" imposes itself as a delicious meal.
When you eat the Tangia, you should be slow and careful. This plate creates an atmosphere of relaxation mixed with joy and pleasure.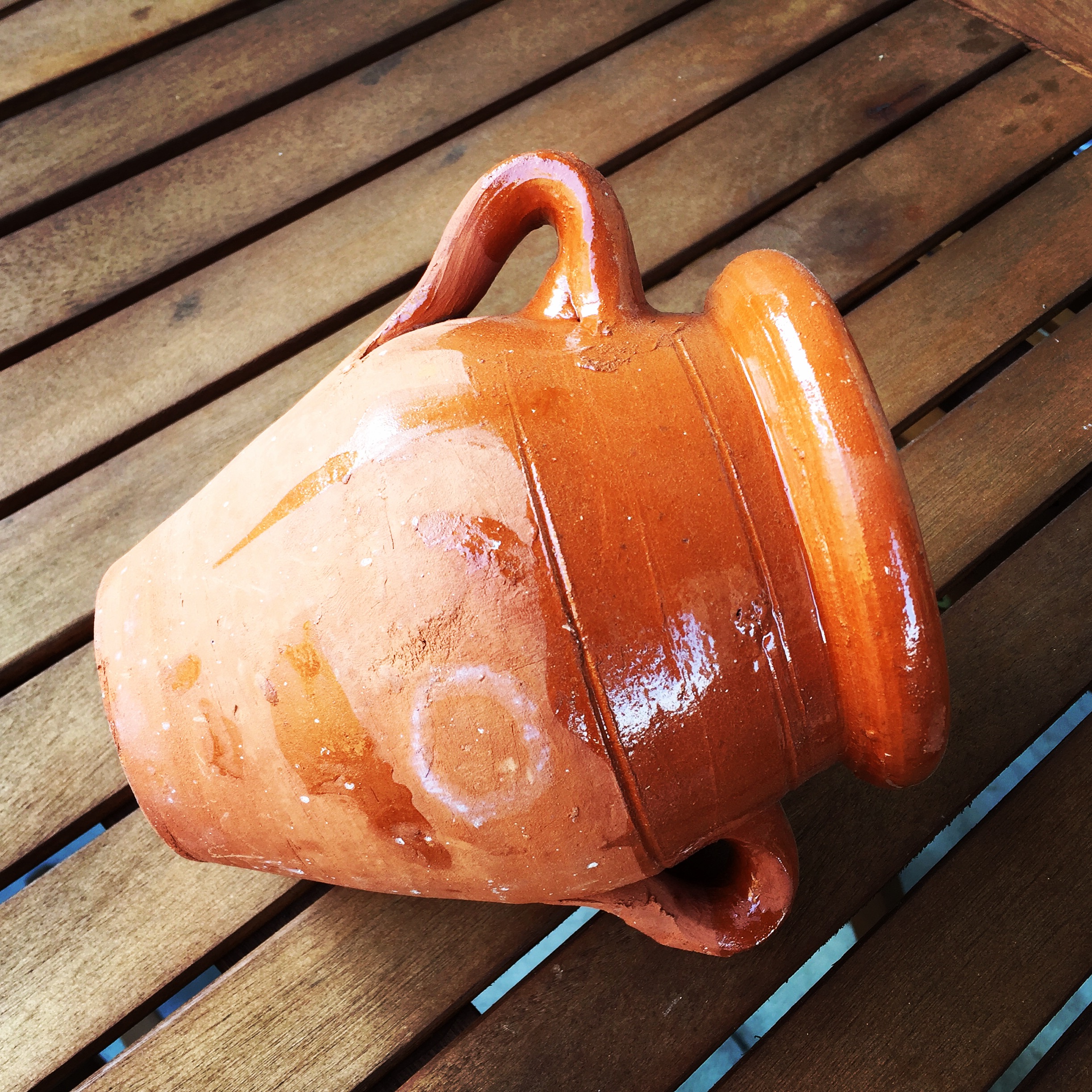 Tangia Clay Pot
Although the Tangia is only meat, this dish is so pleasant. And its broth is refreshing.
All visitors of Marrakesh must taste the "most famous dish" of the Red City.
The Origin Of The Tangia
At the origin, the Tanjia was famous only among artisans.
In the afternoons, merchants used to organize auctions to buy handicrafts. The craftsmen of Marrakech used to spend all their days in the shops outside their homes.
The most skilled of them prepared the Tangia. Before the afternoon prayer, they met for lunch while waiting for the auction process. The Tangia was a must-eat dish at that time.
The Ash Daughter
These days, we prepare Tanjia with soft parts of lamb or beef. You need to add cumin, lemon juice, garlic, and natural saffron.
In the past, people prepared the Tangia with rabbit meat, partridge, hedgehogs, and chicken. There was also a kind of "Veggie Tangia" with dates, raisins, cowpea, lentils, or wheat.
In Marrakesh, we cook the Tanjia in a place called Farnatchi. The Farnatchi is the place where we burn wood for heating the public baths called Hammams.
If the owner of the Tangia is in a hurry (about four hours), he chooses the hottest section of the Farnatchi.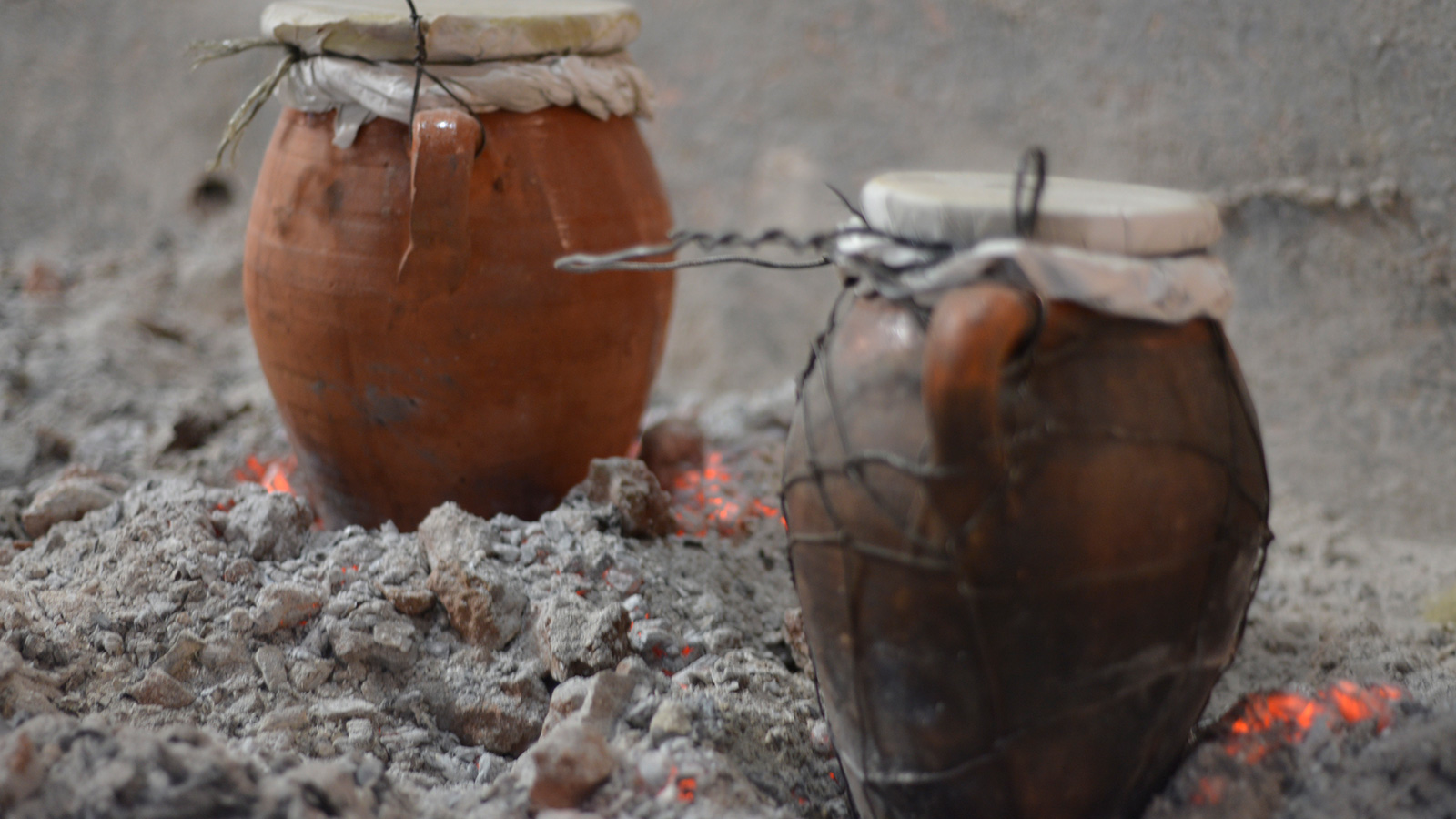 Tangia Inside The "Farnatchi"
If he is not in a hurry, he lets the Tangia in the ashes a whole night and a half day. And thus they called the Tangia the Girl of The Ash.
A Title Of Generosity
The Tangia has become associated with picnics in nature in the springtime.
Also, the Tangia is present during holidays, family gatherings, and celebrations.
The Tangia has become the title of the Marrakesh generosity.
One of the customs, when we serve the Tangia, is to drain it into a plate in front of the invitees. We can then enjoy the plate among plenty of comments and in a fun atmosphere.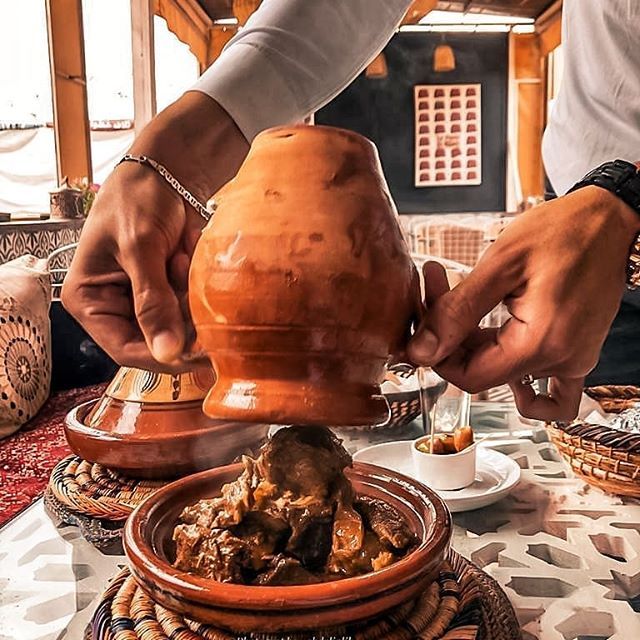 A Served Tangia
How To Cook The Tangia At Home
Ingredients
1 kg of ham veal.
One lemon, squeezed.
One teaspoon of butter.
One garlic head.
Eight saffron bristles.
One tablespoon of cumin.
Eight Cel of olive oil.
1 liter of water.
How to prepare
In a pressure cooker, put the meat, garlic, spices, crushed lemon squares, olive oil, butter, and water.
Cover the saucepan and leave it over low heat for 3 hours, until the meat is tender, softened and the sauce thickens.