The valley of Sidi Farés is beautiful and virgin in the High Atlas of Morocco. With only 70 km from Marrakech, this valley has stunning and contrasting landscapes. Mass tourism ignores the existence of this magic place. So the green valley seems empty.
How does it feel to be at Sidi Fares Valley?
You can sit on a terrace in a Berber house. The view is breathtaking. There is a gentle sound of the wind blowing through the tall grass. This lovely sound is only interrupted by the calls to prayer that run from village to village. How far Marrakech seems to be!
Do you love traditional food?
You can have a great traditional meal composed of soup, bread, oil, olives, a tagine, and couscous. You can finish with oranges marinated in cinnamon and a mint tea.
How to Get to Sidi Fares Valley?
Sidi Fares Valley is 70km south of Marrakech. It is 2 hours drive from Marrakech. I recommend you get there by tourist transport.
Many hotels in Marrakech will offer you the transfer and tour to the Sidi Fares valley. But you will need to negotiate the price.
When to Go to Sidi Fares Valley?
I recommend you go on an excursion on Mondays, Tuesdays, Fridays, Saturdays or Sundays. These days, you have the opportunity to discover and explore the vibrant and traditional weekly market in the area.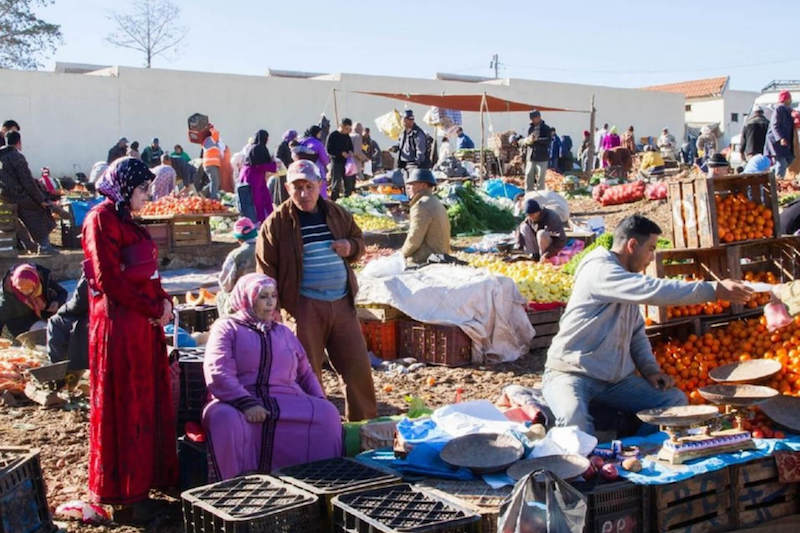 Weekly Souk