In 2017, Forbes magazine published a list of the 27 most beautiful beaches in the world. Imsouane Beach ranked tenth on the Forbes list.
Imsouane beach combines natural landscapes and high waves. For a long time, the mountains in the background of the beach made Imsouane a hidden place.
The American magazine described Imsouane as a surfers' paradise. And the inhabitants of the region call it the Magic Bay.
Content
When to go to Imsouane? Weather, climate, and surf season
You have to distinguish between the best time to go to Imsouane and the best time to surf there.
Imsouane Climate and Weather
Throughout the year, the weather is much more pleasant and milder. And this is why Morocco is a popular destination for European tourists.
In Imsouane, the coolest month is January. But with an average of 14 C° / 57 F°!
Summer can be too hot. But with the wind and the fresh air of the Atlantic Ocean, it is bearable. Where, in places like Marrakech, you quickly suffocate in the heat.
Imsouane Surf Season
If you decide to go to Imsouane to surf, summer is not necessarily the best time to go. The Imsouane surf season generally is from October to June.
From November to March, the surf season is in full swing. In this period, you are sure you will have constant swells and great waves almost every day.
Yet, in high season surfers come together. About 2000 people are there, at the same time, in the middle of winter. And this is too much for a small village, both outside and in the water.
In September, it can be perfect. The village will be quiet with a few travelers. The waves will allow you to surf almost every day. And also the number of people in the water won't be a problem.
How To Get To Imsouane?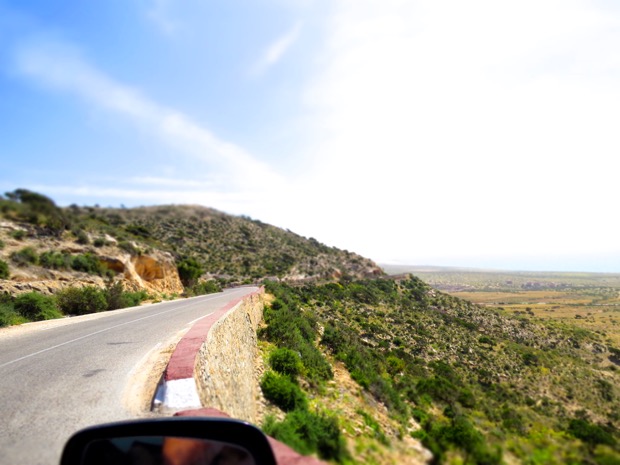 Road To Imsouane
The distance between Essaouira and Imsouane is 95 km. You will need about 1h30 to get to Imsouane from Essaouira.
There are three ways to get from Essaouira to Imsouane:
By taxi
Taking a taxi is quick, simple but more expensive. The price will depend on where and when you want to take the taxi vehicle.
By car
Renting a vehicle for your stay in Morocco is a regular practice. Many tourists see it as the ideal solution to explore the country. It is also possible to collect your vehicle from the airport.
By Shuttle Bus
Once a day, a shuttle bus travels from Essaouira to Imsouane. Check www.souktosurf.com
The Guide To Surf In Imsouane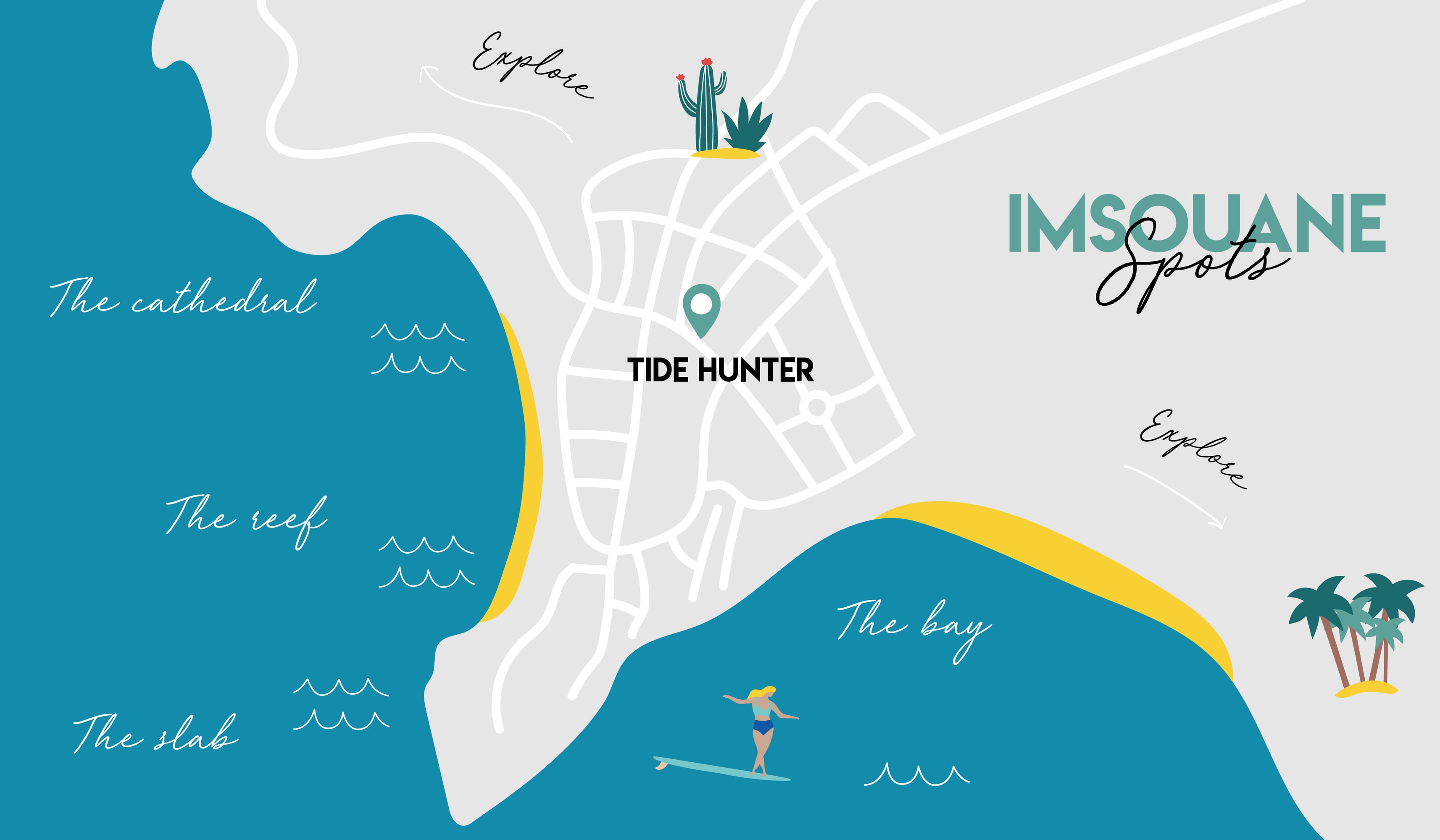 Imsouane Surf Spot
The most extended wave in Africa is in Imsouane. In a good season, the waves are between 600 to 800 meters. Imagine surfing for more than 3 minutes!
Are you a beginner or an intermediate? Do you want to learn or to improve to surf with a longboard? Imsouane, and in particular the spot The Bay, is the paradise for you.
The Bay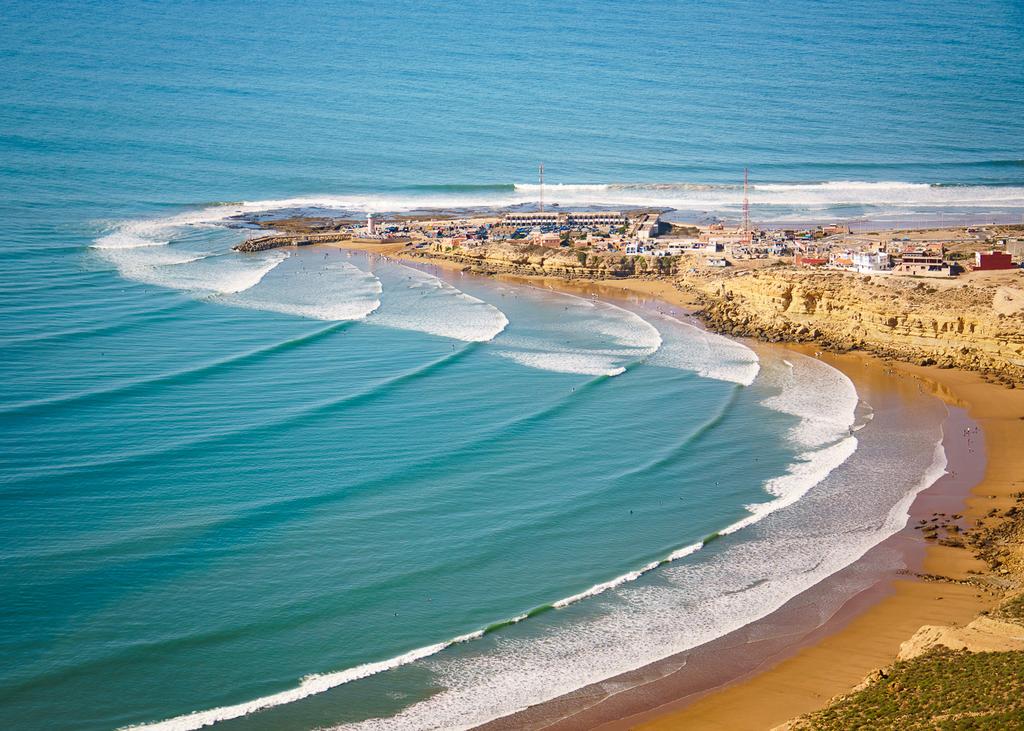 Magic Bay, Imsouane
This spot has long remained secret because it is unique. It is also called Magic Bay.
The Bay is ideal for beginners. Most surf camps and schools go there. Long, easy-to-catch waves that will take you up to 700 meters. The Bay is a dream. This spot is perfect for progressing.
But Be careful! In high season, there can be quite a few huge waves. So catch waves of your level.
Surf at The Reef Spot
This spot is for beginners and intermediates who want to practice shortboard more. The waves are shorter, and they break faster. When The Bay is not working, The Reef can do the job for you.
Best tide for The reef spot: High and rising tide.
The Reef can extend to Cathedral Point on a good day. So there's a space for everyone, don't worry!
The Cathedral Point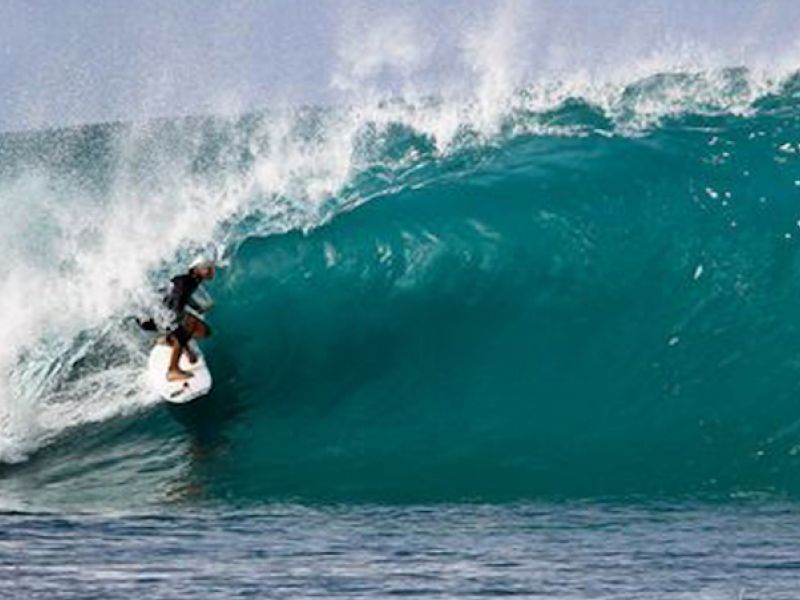 The Cathedral Point
You will need to have the required experience to tackle the Cathedral spot.
When the swell is light, the Cathedral can be a doable spot for beginners. Beginners and intermediates can try this spot in spring and summer times. good
That said, seeing the locals feasting at Cathedral Point is quite a sight.
Surfboards Rental In Imsouane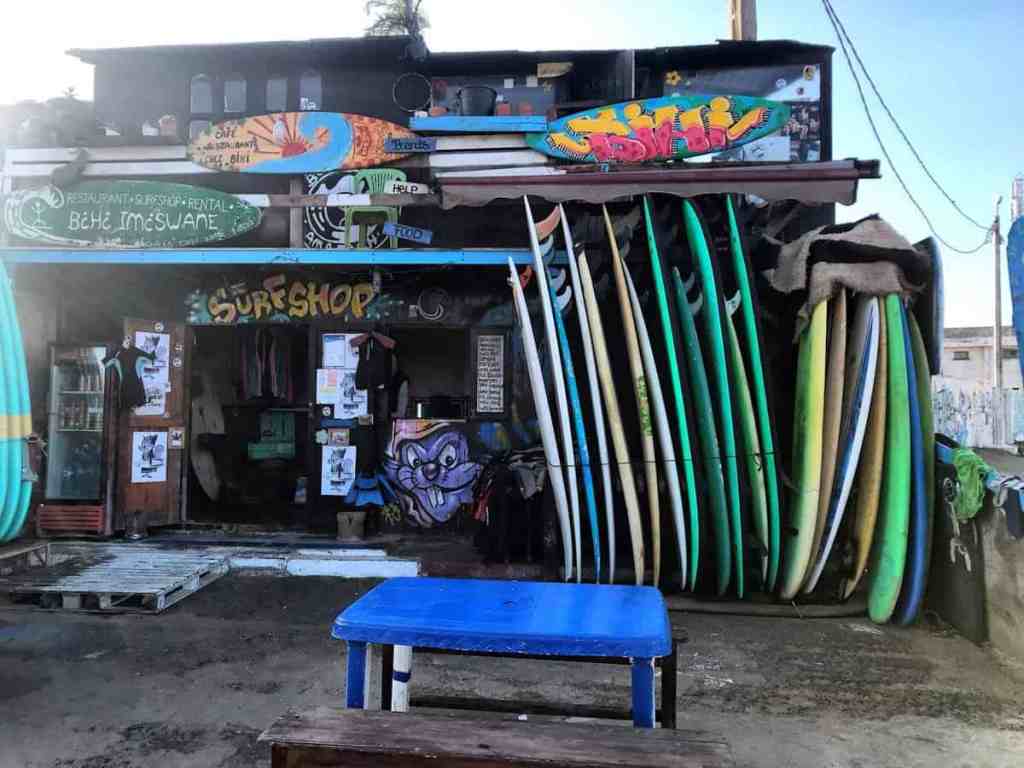 Surfboards Rental Shop In Imsouane
In the center of the village of Imsouane, you will see that there are lots of surf shops. In all shops, there is a wide choice of shorts and longboards.
After negotiations, you can rent your boards and wetsuits for about 70 MAD per day per person. It is less than 7 € per day per person.
You can surf as much as you want. From sunrise to sunset, you can bring the boards back and change them as many times as you need.
Where To Stay In Imsouane?
Imsouane is a popular surf spot in Morocco. Yet, till today, the village has no hotels.
Instead, a lot of inns, guesthouses, apartments, and few villas have emerged for rent. And there is something for all budgets.
Inns and hostels in Imsouane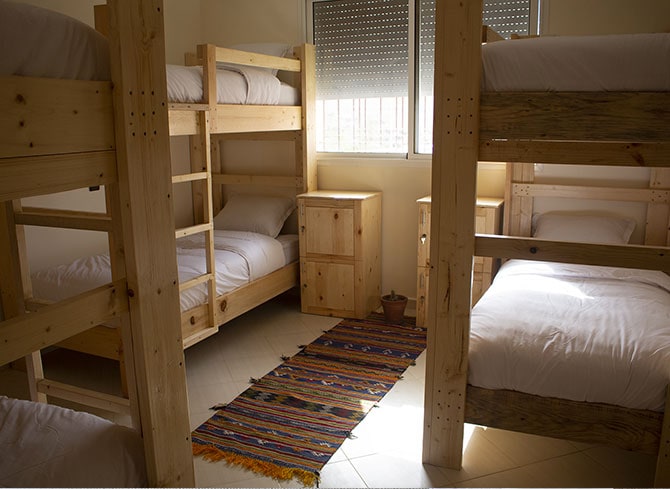 Hostels in Imsouane
Ideal for those who want to get in touch with people. In Imsouane, there is a real family spirit that spread out in hostels. Hostels are not a great luxury. But the atmosphere and the waves are great!
Guesthouses, apartments, and Double rooms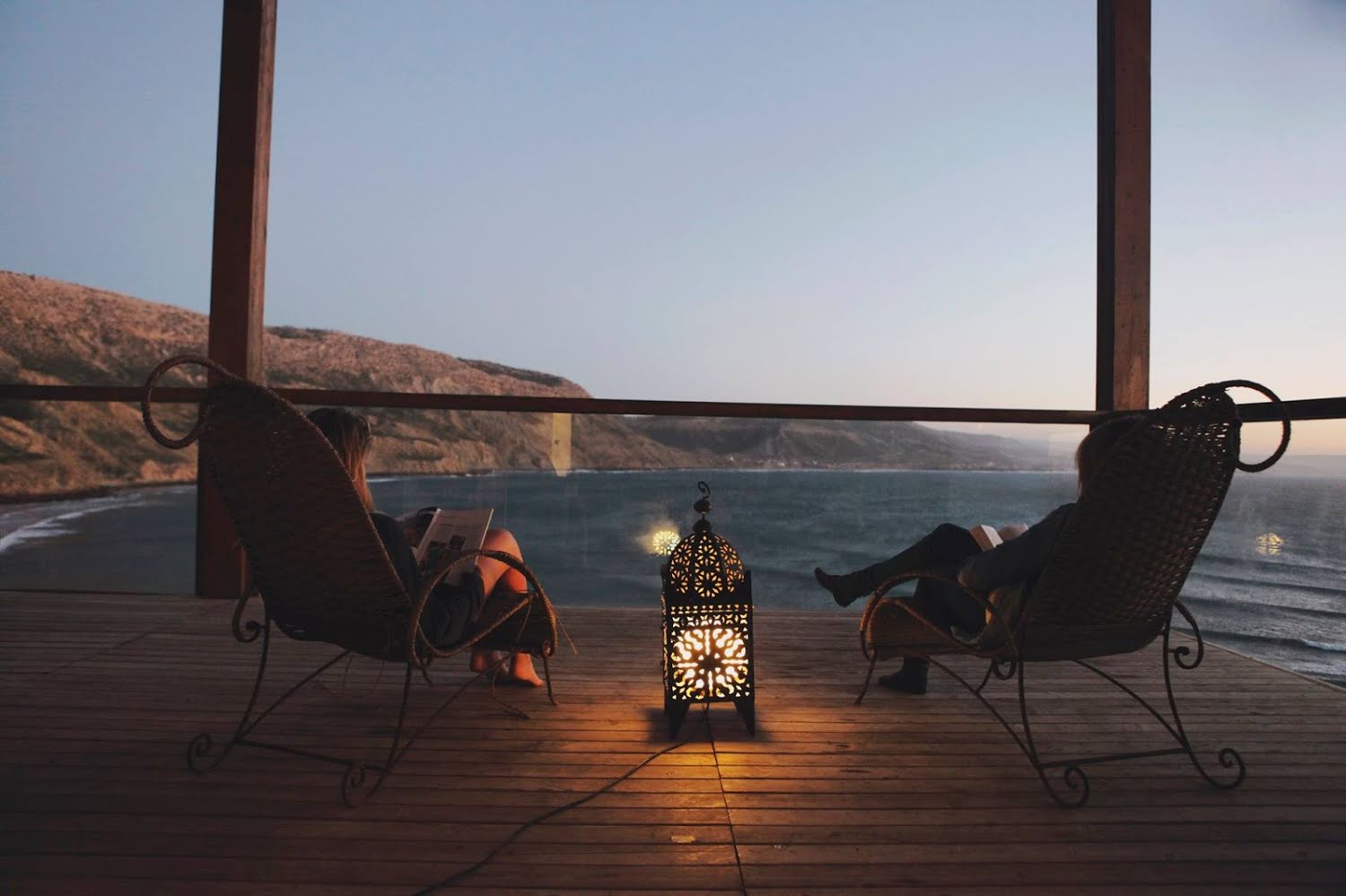 Apartment In Imsouane
If you are a couple, hostel dorms aren't anymore the preferred type of accommodation for you. Appartements are a better choice now.
Ask for rooms that overlook the beach. So you can hear the waves from the bed.
Villas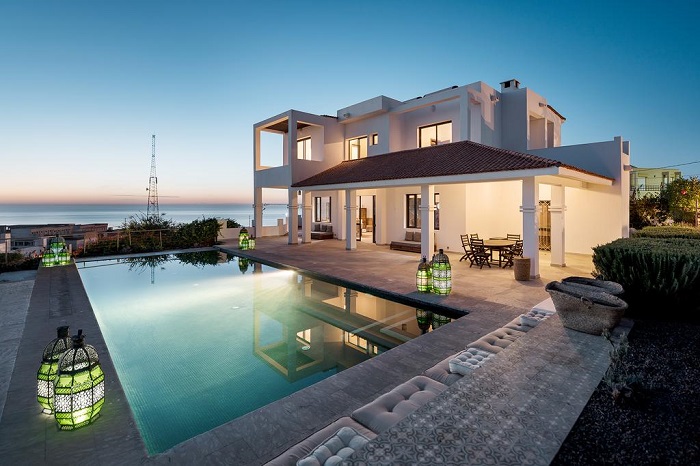 Villa In Imsouane
Villas are also good alternatives for families and couples.
Renting a villa is a good option if you have the budget and you want to have fun.
There are many villas in Imsouane that offer a good service with the price that comes with it.
Where to eat in Imsouane?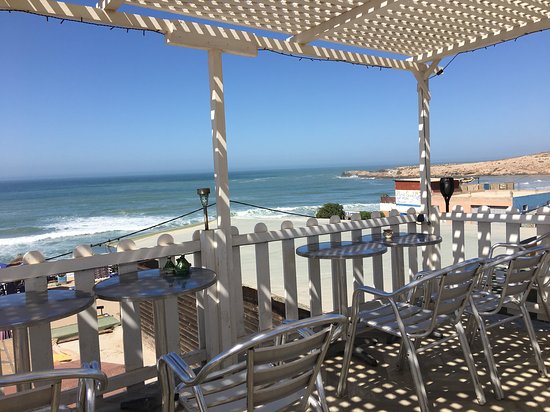 Restaurants In Imsouane
Eating after a good surf session is a real pleasure.
Breakfast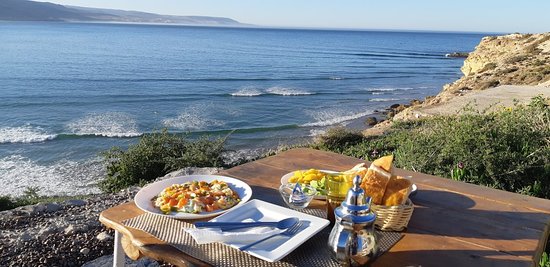 Breakfast
Many cafés and restaurants in the village serve breakfast. For about 30 MAD (3$) per person, you can have bread with jam, butter, and honey. You can also have an omelet or a pancake with sugar. And for a drink, you can get a fresh orange juice+ coffee/tea. Enough to fill up after a good session.
Lunch and Dinner
Flyboard, Takerkoust Lake